Impressive Twitter.com Traffic in March
I was screwing around on Compete.com tonight, looking at the traffic of some of my favorite websites, and thought "oh yeah – I should look at Twitter".
As those of you familiar with Twitter know, there are TONS of ways to update the 140 character communication service without actually visiting the site.  From desktop applications like TweetDeck to mobile phone applications, to SMS, etc. you can keep your friends and followers apprised of what has your attention now (or "what are you doing?" if you're more traditional).
As Jeff Segal, over at breakingviews.com wrote (in an article that ended up on Fortune!), "8 million users can't be wrong.  If only it made some money".  Well, I'm guessing he based that 8 million number on the uniques trafficking the website in February, but the numbers for March are out now and Twitter.com has seen a 76.8% increase in traffic this past month.  Cool.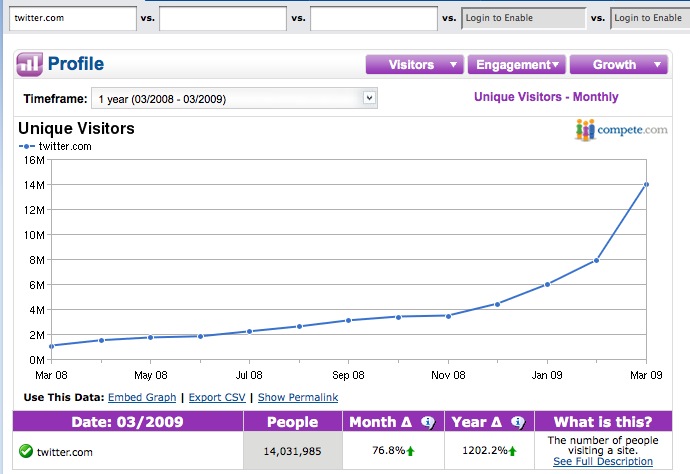 Random Thought: compete.com should consider offering a nice little iframe embed  – that would make my life easier and probably get them some more traffic.
So, why does this matter?  Well, maybe it doesn't – it's a fair point that Twitter doesn't make money yet but if you believe Jason Calcanis then advertising on the service will be worth millions in the coming years.  What do you think?